LANforge FIRE
Stateful Network Traffic Generator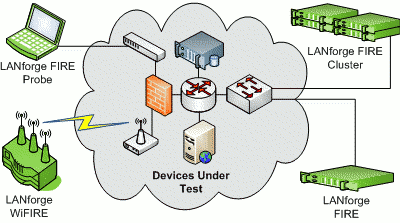 LANforge FIRE generates stateful network traffic and monitors packets for throughput and correctness. LANforge FIRE sits on the edge of your network and tests your network core. More info...
LANforge ICE
Network Emulator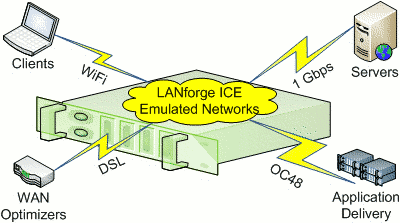 LANforge ICE WAN emulators test the robustness of devices that connect either side of an impaired network. Impairments: bandwidth, latency, packet loss, jitter, corruptions and others. More info...

All LANforge systems include a platform independent graphical management client with virtual network configuration, reporting, test management and automation capabilities. For examples of how the LANforge system can help with your testing needs, see the LANforge-ICE Cookbook and LANforge-FIRE Cookbook.
---
News!
New LANforge FIRE & ICE: 5.3.4 is released:

Release 5.3.4 includes improved WiFi performance and stability. Additional WiFi features to better test WiFi clients. 802.11AC 4x4 wave-2 support is now officially included. Bug fixes include LANforge-ICE WAN emulator fixes, GUI memory leak fixes. See the Release Notes for more details.
For a free trial version of the LANforge software, create an account and go to the Downloads page. If you are a non-profit organization, a student, or part of an Open-Source project, you may qualify for a free LANforge license.
Candela Technologies suggests NetEqualizer for automated traffic shaping applications.
Specials